November 15th, 2018 – Xtera®, a provider of innovative subsea fiber optic solutions, announces completion of the Final Splice and marine operations on the Guantanamo – Puerto Rico submarine cable system for the Defense Information Systems Agency (DISA), an agency of the U.S. Department of Defense (DoD).  The marine installation for the project was successfully performed by International Telecom's cable ship the IT Intrepid.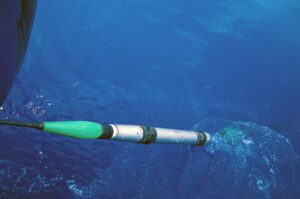 The new system will be fully commissioned as scheduled in December and placed into service in early 2019 after being fully integrated into the global DISN network.  The contract for the 1,400 km long cable system was awarded in September 2017.  The design, which uses Xtera's second generation low noise repeater, delivers a high-capacity solution at the lowest cost per Terabit/s.
Keith Henderson, Chief Executive Officer of Xtera comments, "The success of this project is a credit to the professionalism of our expert team and their ability to work seamlessly with our industry-leading partners.  Excellent collaboration between Xtera and the DISA project team has enabled the on-schedule delivery of the system despite regional weather challenges. Once again Xtera has demonstrated that it is the Supplier of choice for those seeking a high-quality innovative optical solution."
This is the second submarine cable system that Xtera has deployed for DISA, the first has been in the water and fully operational since 2015. Both system designs demonstrate Xtera's strength in the regional market based on its leading technology, which offers the highest-capacity and the longest reach subsea repeater available in the market today. When combined with the Nu-Wave Optima™ Submarine Line Terminal Equipment (SLTE), which utilizes patented Raman technology, Xtera can deliver more than 40 Terabits/s on a single fiber pair.
About Xtera®
Xtera is an innovative provider of subsea and telecoms technology.  The company supplies both unrepeatered and repeatered systems, using its high performance optical amplifiers to deliver traffic directly inland to cities and offering flexibility in working with selected partners to provide the optimum technical and commercial package.  Xtera consistently challenges industry norms and creates novel solutions that are suited to each individual customer whether that be for the provision of a system, an open architecture design or individual network elements. 
For more information please visit www.xtera.com or contact [email protected]