May 1st, 2018 – Xtera®, the system supplier for the ARBR project, announces today that Seaborn Networks ("Seaborn"), a leading developer-owner-operator of submarine fiber optic cable systems, has selected its C+L band design for the system between São Paulo and Buenos Aires.  ARBR utilizes the advanced technology of Xtera in order to meet the growing capacity requirements of Internet Content Providers on this crucial route. The ARBR system will allow for direct onward connectivity to New York, via Seaborn's Seabras-1 system, thereby providing a lower latency route between the commercial and financial centers of Buenos Aires, São Paulo, and New York.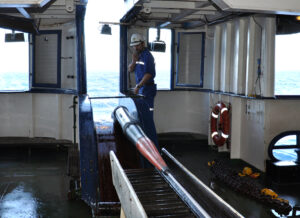 Xtera's proven wideband repeater is a hybrid Raman / EDFA design and can be configured to provide bandwidth in the C band alone, or across the C+L bands. First deployed in 2015, Xtera's addition of Raman amplification to standard repeater technology has been used to achieve bandwidths of approximately 70 nm, while also offering very low noise solutions. Development continues to increase the capacity on a fibre pair to well over 100Tbit/s, further demonstrating that high capacity solutions do not have to mean large and costly fibre count systems.
"We work constantly with our partners and customers in this dynamic Latin American market to develop subsea cable systems that meet their future bandwidth demands," says Larry Schwartz, Chairman & CEO of Seaborn.  "Use of Xtera's technology on the ARBR system will allow Seaborn to offer the most advanced system under the sea with on-demand capacities of up to 44Tbit/s per fiber pair. Disruptive innovation like this resonates with our content provider customers and positions us to respond to their needs well into the future."
Leigh Frame, Xtera's COO, adds, "We are pleased to be able to offer a system solution that sidesteps the Shannon limit, matching Seaborn's efforts to challenge the conventions of the industry, offering more to their customers and accomplishing this at a highly competitive price point.  The combination of EDFA and Raman amplification allows us to provide C+L today, and Xtera is already innovating for what is beyond.  We will continue to develop our products to stay ahead of market trends and help shape customer requirements, both commercially and technologically."
The ARBR cable is fully funded and on an accelerated implementation schedule to bring valuable new capacity on an underserved route, providing important new connectivity to this region. Visit Seaborn Networks for more information.