March 14th, 2018 – Xtera®, a provider of innovative subsea fibre optic technology, today demonstrates the benefits of its advanced and unique approach by transmitting 120 Terabit/s over a single repeatered fibre. The experiment, which was performed in collaboration with University College London (UCL), used a hybrid distributed-Raman / EDFA amplifier with a bandwidth of 91 nm.  This is an extension of the technology which Xtera currently deploys in its subsea repeaters, with 256QAM and adaptive FEC expertise coming from UCL and Z-PLUS Fiber 150 fibre from Sumitomo.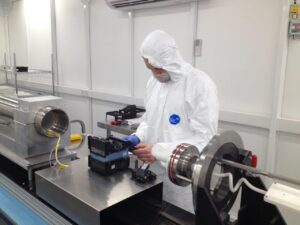 Increasing the bandwidth is the best way to get more capacity from a given fibre and the combination of a C-band and an L-band amplifier has been used to get bandwidths of approximately 70 nm, but Raman amplification used by Xtera can offer even greater bandwidth, while also offering very low noise.  In recent years higher order modulations and more sophisticated FEC have been key transmission enablers, so 256QAM and adaptive FEC shows the direction that commercial modules will be rolling out in the foreseeable future. These initial experiments were performed over 630 km with nine broadband amplifiers spaced at 70km.  In the near future, these will be connected to form a loop to allow tests over much longer distances.  The capacity and span achieved today exceeds the previous record of 115 Terabit/s over 100 km by more than six times.
Dr. Stuart Barnes, Chairman of Xtera, in expressing how pleased he has been with the Xtera / UCL collaboration, states, "This is the start of an exciting period of work where Xtera and UCL will push the limits of this technology even further, a possibility which doesn't exist for two discrete C+L amplifiers.  I am confident that more bandwidth is not only possible but also practical, and more importantly, commercially viable.  Xtera will continue to push transmission technology further in order to create products which meet the market demands of the future."

Professor Polina Bayvel, CBE FRS FREng, adds, "I am happy that our state-of-the-art, high-speed WDM transmission testbed, developed through the EPSRC UNLOC programme, could be used to achieve record transmission throughput.  This accomplishment has been enabled by many ground-breaking research developments in digital signal processing and amplifier technology as well as dedicated effort of outstanding researchers from UCL's Optical Networks Group and Xtera."
Details of the experiment and findings are available at www.xtera.com and www.arxiv.org/.
For further details of this record and to understand how Xtera's products can work for you, meet with the Xtera team at OFC, the Optical Networking and Communication Conference and Exhibition, taking place March 11–15, 2018 in San Diego, California.